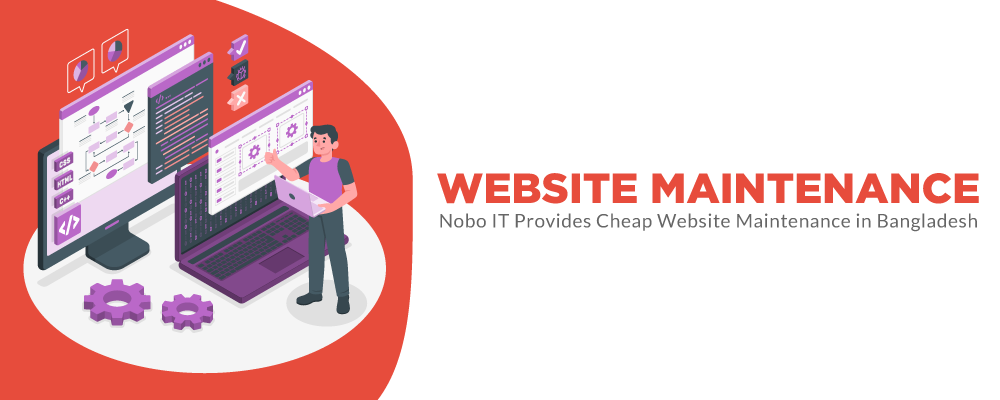 At present it is recommended to have a website in the name of the organization or person for business expansion and overall contact. Websites are called the mirror of the organization. An updated and tidy website provides a comprehensive picture of the organization as well as the overall activities of the organization, the identity of the members and the type of service delivery. But for many, opening a website and maintaining it can be a daunting task. Again, many people do not pay attention to the maintenance of the website due to lack of time.
With these aspects in mind, Nobo IT has come up with a smart solution. From creating a website to your needs, Nobo IT has come up with a very careful maintenance facility. You can avail this facility from any part of Bangladesh including Dhaka at a very affordable price. There is no alternative to an attractive website to compete with other contemporary organizations to promote your organization and reach the maximum number of people in a fast time. Nobo IT ensures that such an attractive website is created and maintained. Our skilled IT team is able to solve any problem of website in a short time. You will also find all the services related to website including your choice of images, content creation, modern design and use of technology in the attractive package of Nobo IT. We Develop Dynamic Responsive website best for Government, Corporate, Garment Industry, Real Estate, Buying House, Association, School, College, NGO, Persona, Business Consultancy Firm, Travel Agency, imports and exports Sectors.
Nobo IT established to minimize your business cost. You need not concern about your website maintenance. We will fully maintain your website in the cheapest cost. Nobo IT situated in Kazipara Bus Stand, the capital city (Dhaka) in Bangladesh. We build static, Dynamic and Ecommerce website as your demand. We also use different CMS to manage your content. A complete website solution you will get from NOBO IT.
After completing your dynamic or statice website you need to update this website regularly. Different issue, news, content should be uploadeded in regular basis. All content should be maintain quality in professional and international standard. After all your most valuabel things in the website is your product informatin or content in different aspects. You can rely on Nobo IT who serve you , by their professional team.
Nobo IT is committed to providing the best website creation and maintenance services in the country.
Different and Exclusive Website Maintenance Service - Nobo IT:
Website Maintenance Company in Dhaka, Bangladesh
1. Graphics Content
2. Text Content
3. Security Service
4. Ecommerce Product Upload
5. Website Data Entry
6. Technology/ Programming Language Update
7. Website Migration from another Server
8. Email Service
9. Social Media Sharing